Numerically, the Formula 1 season has passed its halfway point. Twelve races have been completed, and ten remain. However, with the sport on its annual four-week summer break, now is the logical time to deliver a half-term report.
Top of the class is Max Verstappen. His record of 10 race victories and an additional two second-placed finishes has seen him accumulate 314 World Drivers Championship points. Success in the next race on the calendar – the Dutch Grand Prix on August 27th – will see the Red Bull driver match Sebastian Vettel's 2013 record of nine consecutive race wins.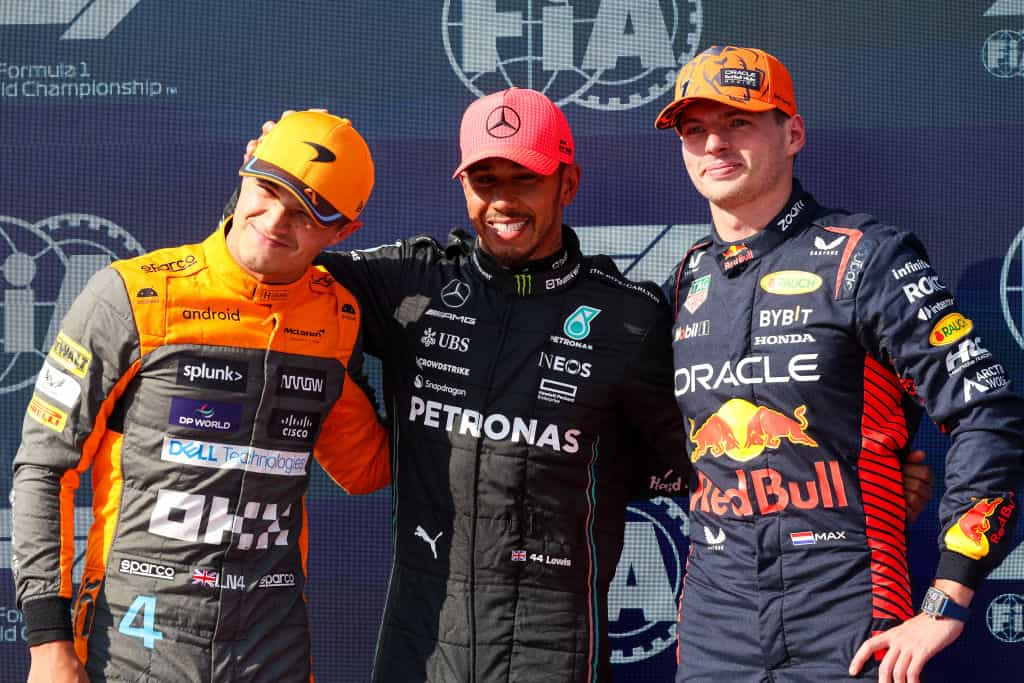 In the current World Constructors' Championship standings order, below you can read my 2023 Formula 1 driver performance ratings. They are based on personal opinions. Having specialized in Formula 1 betting for over a decade – and been an avid fan of the sport since Michael Schumacher's 1991 Belgian debut – hopefully, my experience/viewpoint provides a fair assessment.
Red Bull 503 points
Max Verstappen: A+
The 25-year-old's record speaks for itself. His car may be a cut above its rivals, but Verstappen has been faultless behind its wheel. He has failed to win two races, but no caste was lost in his Azerbaijan second – due to an ill-timed safety car – and second in Saudi Arabia when a mechanical issue during qualifying saw him start from 15th on the grid.
Sergio Perez: C
The Mexican has picked up the crumbs when Verstappen has had his woes. But a series of poor efforts in qualifying have been costly. Perez appears to be lacking in confidence, collecting just one podium finish during a five-race sequence (starting in Monaco). Punishing defeats by Verstappen when beginning with a sizeable advantage – such as the Miami Grand Prix – must have his head spinning. Is his seat in the PokerStars-sponsored Red Bull safe for 2024?
Mercedes 247 points
Lewis Hamilton: A
Hamilton is outperforming his machinery. The veteran's pole position in the Hungarian Grand Prix was a standout performance. His head-to-head qualifying record with his younger teammate currently stands at seven-to-five. In races, he has finished ahead of him nine times.
George Russell: B-
Finishing behind Lewis in six of his last seven race starts, including a double podium finish in Spain, will weigh heavily on Russell's mind. The second-season Mercedes driver has claimed just one podium finish in 2023. He did earn the Stewards' attention when colliding with Perez in Monaco.
The 25-year-old sits sixth in the standings and remains reliable and fast. But, unlike in 2022, Russell now fits the mold of a competent second driver. A flash of brilliance is needed to restore confidence and boost the value of his stock.
Aston Martin 196 points
Fernando Alonso: A+
The oldest driver on the grid is showing his maturity and not putting his nose, or that of his Aston Martin AMR23, into gaps where it is not wanted. As wily as ever and clearly buoyed by a car that was so competitive in the first eight races of the year, he has accumulated an impressive 149 points. Surely no driver could have done a better job.
First half of the 2023 season 📸. Magic . @AstonMartinF1 @F1 pic.twitter.com/9sKvGQTYf9
— Fernando Alonso (@alo_oficial) August 1, 2023
Lance Stroll: C-
Whereas Alonso sits third in the driver standings, Stroll lags down in ninth, over 100 points adrift of his teammate. 2023 represents Stroll's seventh season in the sport and, quite frankly, his worse. He has only outscored a teammate once – his six points were enough to finish ahead of Sergey Sirotkin when driving for Williams in 2018.
Ferrari 191 points
Charles Leclerc: B
Disheartened and unhappy, the Monegasque driver does not have a car good enough to meet his expectations. There have been two retirements – one mechanical and one collision – but he has finished on the podium three times and has claimed two pole positions.
When he is good, he is outstanding, but Leclerc has been accused of lacking consistency, and a recent penalty for pit-lane speeding was inexcusable. In short, there is room for improvement.
Carlos Sainz Jr: C+
No podiums, but a string of solid efforts see Sainz trail his teammate by just seven points. He earned himself two penalty points on his license when causing a collision with Fernando Alonso during the Australian Grand Prix, and minor mistakes are common enough.
Reports of him signing a pre-contract to join the Sauber team – currently Alfa Romeo and destined to become Audi – could see him suffer the black sheep treatment, which will see his form suffer. Sainz needs at least one barnstorming race, but it is hard to forecast it happening.
McLaren 103 points
Lando Norris: A
Like the top three in the standings, Norris has completed every race of the season. He has finished a lowly 17th four times but has made the points seven times, taking second place in the British and Hungary Grand Prix.
Out-qualifying his teammate 10-to-two and finishing ahead of him nine times, it is difficult to fault the 23-year-old. In a car that has shown remarkable development, he could be the one to end Red Bull's winning streak that currently stands at 13.
Oscar Piastri: B
Only a year younger than Norris, but in his first year in the sport, the Australian is finding his feet quickly after a shoddy start. He could be accused of being a little over-enthusiastic – something Carlos Sainz believes costs both drivers at the recent Belgian Grand Prix. Ultimately, he deserves a good report with the prospect of much more to come.
Alpine 57 points
Esteban Ocon: B-
During 2023, Ocon has failed to finish four times – both Alpine drivers retired at the Australian Grand Prix, British Grand Prix, and Hungarian Grand Prix – but he has finished amongst the points in five of his other seven starts.
A third place in the Monaco Grand Prix stands out – occasional freaky results are always possible there – and compared with his teammate, the scores are six-apiece in the qualifying stakes. It is five-four in favor of Ocon in race results.
Pierre Gasly: C-
Gasly has suffered just one race retirement in 2023, but he trails Ocon by 22 points to 35. The William Hill online sportsbook quotes the former Red Bull Academy driver on 3/1 to make up the deficit and finish ahead of his teammate at the season's end. On what he has shown so far – very little – it appears unlikely to happen.
Williams 11 points
Alex Albon: A
Driving for a team that has been in the gutter for several seasons but is now displaying the green shoots of recovery, Albon has been outstanding. Three points finishes, three appearances in the Q3 section of qualifying, and a 12-0 record over his teammate in that sphere underline this resurgent driver's confidence.
Sit back and watch @alex_albon do his thing 😎🍿 pic.twitter.com/INUFOz8h8C
— Williams Racing (@WilliamsRacing) August 7, 2023
Logan Sargeant: D
No points in a relatively slow but reliable car is not the issue for this American rookie. Positives of any kind are hard to find. Incidents in Azerbaijan, Miami, and Spain are big black marks on his report, and Albon has him embarrassed in the performance stakes. If Sargeant's 2024 race seat depends entirely on results – he is undoubtedly racing in his final F1 season.
Haas 11 points
Nico Hulkenberg: B
A single seventh-place finish has been enough to give this shy German his entire nine-points haul. Hulkenberg returned to the sport following three seasons without a full-time race seat. Nevertheless, he has looked better than his established teammate.
Never appearing likely to drive into a trouble spot, he is very reliable. However, in 2023, his one-lap qualifying pace has stood out, and Hulkenberg has out-qualified Kevin Magnussen nine times to three.
Kevin Magnussen: C-
'Disappointing' and 'could do better' are phrases that fit the Dane's 2023 report. Only once has he shown any fire during the season – when battling with Leclerc in the Miami Grand Prix, where he eventually finished 10th. As the established driver in the team, much more was expected, and if he were in his first season, you would be unsurprised if he were dropped in 2024.
Alfa Romeo 9 points
Valtteri Bottas: B-
Bottas has never changed during his time at Williams, Mercedes, and now, at Alfa Romeo. He is not flashy; he is methodical and trustworthy. His testing time alongside Lewis Hamilton proved he would not enter the history books as one of the greats either.
Finishing ahead of his teammate eight times to four, statistically makes him the stronger of the two Alfa Romeo drivers. But, like many driver, a solid noteworthy day at the races would be a nice thing to see.
Zhou Guanyu: C
Like his teammate, Zhou has sneaked into the points twice during 2023. But he has been out-qualified seven times to four and often circulates circuits at the back of the field anonymously. A glimpse of something somewhere, sometime, would be nice.
AlphaTauri 3 points
Yuki Tsunoda: B-
Three individual tenth-placed finishes have yielded his team's three points. The Japanese driver out-qualified and outraced Nyck de Vries by a ratio of eight-to-two. Drivers can only be compared with their teammates, so the net worth of this form is open to interpretation.
The 23-year-old driver is showing more ability in 2023 than he did in 2022. Amusingly, he remains blunt on his team radio. Completing every race of the season to date, he has done a more than satisfactory job.
Daniel Ricciardo: ?
Dropped from McLaren at the end of 2022 following two mostly disappointing seasons, the Australian was parachuted into an Alpha Tauri race seat when Nyck de Vries was shown the door. After two races, it is impossible to judge his form, but he will undoubtedly keep Tsunoda on his toes.
Bull Have the Cow by the Horns
2023's Formula 1 cars are proving hyper-reliable. Seven drivers have been classified as finishers in all 12 races, which is exceptionally high. That number includes both Red Bull drivers who have vastly superior race cars.
Interestingly, there are an inordinate number of drivers on the 2023 Formula 1 starting grid who cut their teeth at the Red Bull Junior Team: Daniel Ricciardo, Max Verstappen, Pierre Gasly, Carlos Sainz Jr and Alex Albon.
Motorsports betting sites are as good as any in predicting the future. They state Verstappen winning the World Drivers' Championship and Red Bull taking the World Constructors' Championship are unbackable outcomes.
Sergio Perez is quoted on 1/4 in the 'without Verstappen' market, where Lewis Hamilton is 3/1 and Fernando Alonso is third best on 33/1. Taking Red Bull out of the equation, Mercedes is 2/7 in the World Constructors' Championship betting. Ferrari, on 7/2, and McLaren (16/1) follow.
Of the back of the grid teams/drivers, while betting markets are unavailable, the odds of either Logan Sargeant or Kevin Magnussen being without a race seat in 2024 must be short.
Have you enjoyed this article? Then share it with your friends.
Share on Pinterest