Global sports betting, gaming, and entertainment provider Flutter Entertainment has announced that PokerStars VR, the innovative virtual reality product created by its PokerStars brand, has had a makeover and name change. It is now called Vegas Infinite.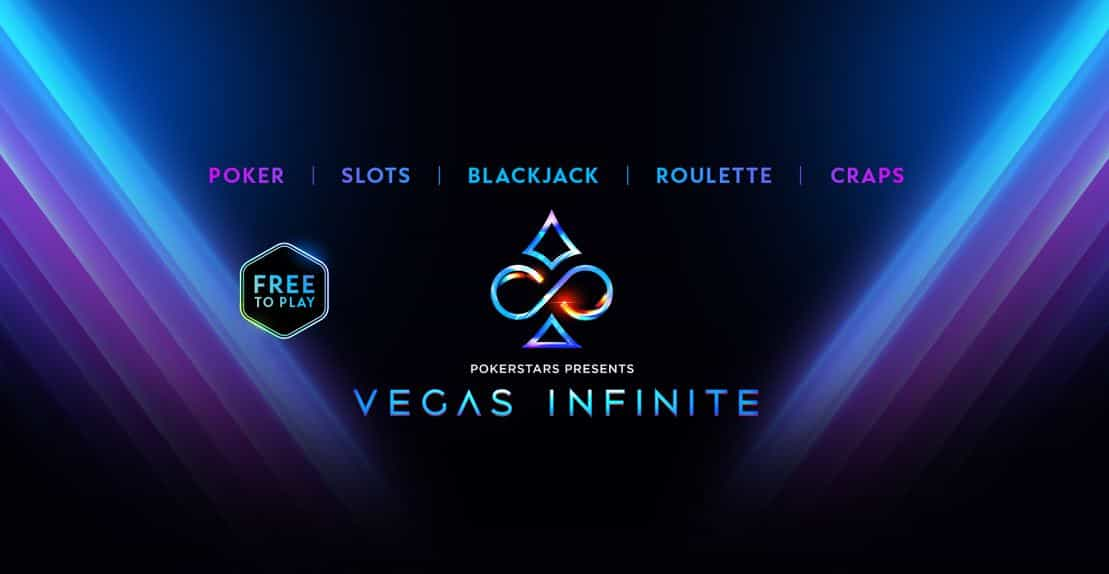 After almost five years at the leading edge of the category as PokerStars VR (Virtual Reality), Vegas Infinite represents the next generation in the game's evolution as a virtual entertainment destination. The rebrand is part of a full-scale overhaul of the free-to-play social casino video game.
The new version features a brand-new and bespoke 3D virtual cityscape for players while exploring Vegas Infinite's personal player suites, luxury casinos, and exclusive rooftop escapes.
Sitting Down With Friends for a Flutter
Flutter says it "prides itself on driving product innovation across its global portfolio of brands." And, through its distinctive Flutter Edge, where product and technology capabilities are shared across the group, "brands like PokerStars can consistently develop their offering by incorporating expertise and insight from other parts of Flutter."
The company owns and operates brands such as FanDuel, Sky Betting & Gaming, Sportsbet, PokerStars, Paddy Power, Sisal, Tombola, Betfair, TVG, Junglee Games and Adjarabet. It launched PokerStars VR in 2018, allowing players to sit with friends at a virtual poker table, chat in real-time, and interact with their surroundings in various environments.
The product has experienced continual development since. It was accelerated when Flutter acquired the PokerStars brand in 2021. The company added blackjack, roulette, online slots, craps, and the proprietary game, Rocket Rush, to an extensive in-game portfolio as part of this expansion.
Poker fans have also enjoyed VR Spin & Go Poker, Multi-Table Tournaments, and PokerStars' flagship poker tournament series, the Metaverse Poker Tour (MPT). The virtual destination has also grown to include personal suites and dressing rooms, a luxury casino floor in Casino One, The Gallery casino exclusive to high-rollers, and The Rooftop – a subscriber-only rooftop escape overlooking the soaring Vegas Infinite cityscape.
Tools to Grow the AI Experience
Player safety has been a focal point during development, with Vegas Infinite using ToxMod, an AI live chat monitoring tool, to assist its dedicated moderation team. Players also have access to a range of in-game safety tools, including the option to take time out from games, set spending limits, issue player reports, and customize the extent of their interaction with others in-game.
Announcing the rebrand, James O'Reilly, PokerStars Director of VR & Innovation, said: "As we approach our fifth anniversary, it's incredible to think how far our game has come. From a cutting-edge experiment in applying virtual reality to the poker table, we've grown to become a living entertainment destination with a full suite of games and experiences played in otherworldly environments that are home to an avid community of players."
Blue Chip Gives to BillyChip
Elsewhere, PokerStars and The BillyChip Foundation – a UK non-profit organization focused on supporting people sleeping rough – have joined together to provide further care and support to people experiencing homelessness. PokerStars says it will support the charity by awarding a grant of £100,000 over two years. It will allow rough sleepers in the UK to purchase basic needs.
BillyChip provides a secure currency for the homeless, which can be used in participating outlets for food and drink. It aims to overcome some of the concerns people may have about giving to those who are homeless and offers choices to the person using the currency.
The latest announcements have come under the stewardship of a new PokerStars CEO, Kevin Harrington. The Irishman has taken PokerStars top job at the site following a three-year stint as its Chief Commercial Officer. He has 11 years of experience with Flutter, beginning his journey with the group in 2012 when working for PaddyPower and Betfair.
Have you enjoyed this article? Then share it with your friends.
Share on Pinterest