Sky Sports has announced major changes to the presenter lineup of its popular Gillette Soccer Saturday show. In October 2021, Jeff Stelling declared his intention to leave Soccer Saturday at the end of the 2021–22 season after 18 years as its chief presenter.
The four-time 'Sports Broadcaster of the Year' changed his decision and remained at the helm for a further year. However, in April 2023 Stelling confirmed that he would be leaving the show and the Sky organization.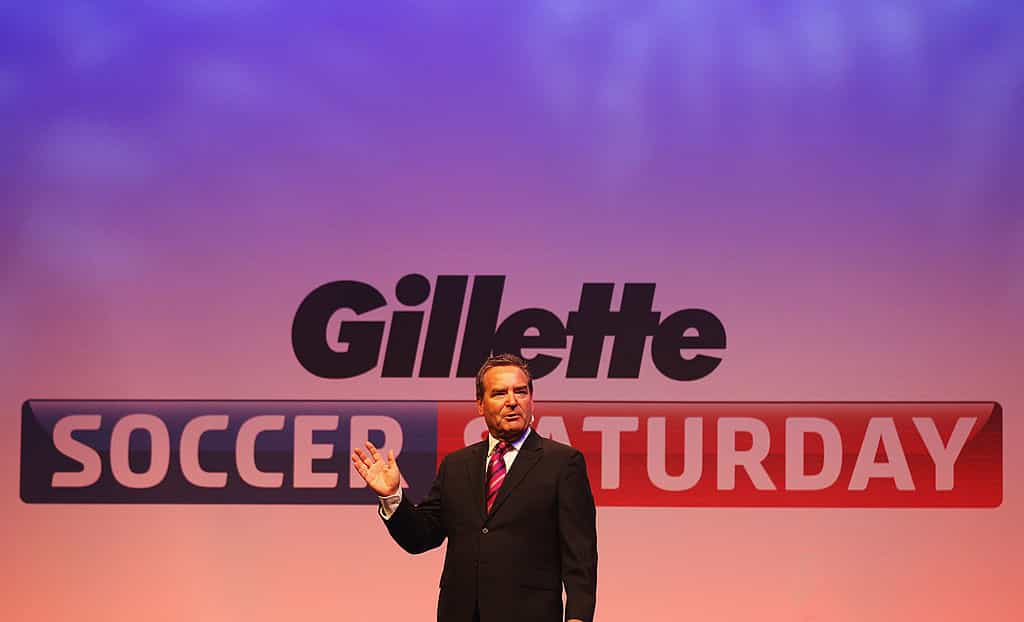 Many predicted another change of heart, while others speculated on his replacement. Sky has now revealed Simon Thomas will be the new Gillette Soccer Saturday presenter. The popular broadcaster brings over 20 years of experience to the role including more than a decade at Sky Sports.
In his first stint with Sky Sports, starting in 2005, Thomas presented on Sky Sports News before becoming the lead presenter across live football coverage, including the Premier League and EFL. He has also occasionally stepped in for Jeff Stelling during the past year.
Poacher Mike Dean Turns Sky Gamekeeper
The Gillette Soccer Saturday team will also be bolstered by the arrival of former Premier League referee Mike Dean. Dean finished his 27-year refereeing career in 2022, spending 22 of those officiating matches in the topflight of the domestic league. The move will see him offer in-depth analysis and insight on the biggest decisions made up and down the country every Saturday.
The absolute best of Premier League icon Mike Dean, who you'll see plenty more of on your Sky Sports screens next season 🍿😅 pic.twitter.com/HaYckyTMuM
— Sky Sports Premier League (@SkySportsPL) July 17, 2023
In a fresh look for the show, Sky has also stated Soccer Saturday will broadcast from a new studio this season. "Simon and Mike will be joined by an array of familiar faces on the panel, including Paul Merson, Clinton Morrison, Michael Dawson, Sue Smith, Kris Boyd and Tim Sherwood," said Sky's press office when announcing details of the 2023/24 show.
Of the changes, Sky Sports' Director of Football Gary Hughes added: "Simon left Sky at the top of his profession as a Premier League presenter, delivering the biggest games to big audiences. It's brilliant to have someone with his experience and credibility back on the team to take Gillette Soccer Saturday into a new era."
"We're also delighted to welcome Mike to Sky Sports. He was one of the game's most well-known and well-liked referees. In his role, he'll be explaining the big calls and decisions from his unique perspective, providing fans of Gillette Soccer Saturday and our Premier League coverage with greater analysis, insight, and understanding."
Sutton to Strike for Sky in Scotland
A week before the 2023 Premier League kicks off, Sky Sports' coverage of Scotland's cinch Premiership will begin. The Saturday 5th August clash between Celtic and Ross County will be the first of 48 cinch Premiership matches to be shown by the broadcaster this coming season.
And there are changes to Sky's presenting roster here too. Former Celtic striker Chris Sutton will join Sky Sports for the new cinch Premiership season. Known for his forthright opinions on the Scottish game, Sutton will work as a lead pundit alongside former Rangers' star Kris Boyd as well as Eilidh Barbour and Ian Crocker.
Sutton, with three league titles, three Scottish Cups and one Scottish League Cup to his name – as well as a UEFA Cup final appearance with Celtic – will bring a wealth of football knowledge to Sky Sports.
Last September, Sky Sports and the SPFL agreed a new four-year extension to their current deal. The renewal kicks in from the 2024/25 season and gives Sky Sports viewers up to 60 games exclusively live per season. It will see Sky Sports broadcast live from each Premiership ground on up to five occasions every season, one more than the current deal.
The best football betting sites quote the title holders Celtic on 4/6 to retain their crown during the 2023/24 season. Rangers' can be backed on 6/5. All other teams are priced 100/1 and bigger.
Pien and Izzy Put Pen to Paper
Former England international Izzy Christiansen and respected commentator Pien Meulensteen are others who have recently signed with Sky Sports. The pair will present action from the 2023/24 Barclays Women's Super League season (WSL). It gets underway on Sunday 1 October when Champions Chelsea will host London rivals Tottenham Hotspur at Stamford Bridge.
Izzy Christiansen joins the team having announced her retirement on Sky Sports 'Three Players and a Podcast' at the end of last season. She had enjoyed a successful 14-year playing career with Everton, Birmingham City, Manchester City and Lyon – as well as on the international stage with England.
Secured the goods @SportSJA 🏆🙏🏼 pic.twitter.com/QEgetQmWqw
— Pien Meulensteen (@MeulensteenPien) March 6, 2023
Pien Meulensteen brings a wealth of experience as a commentator, reporter, and presenter. Last season she made history as the first lead female Sky Sports commentator on a Premier League match. Meulensteen has also commentated on World Cup games. She collected a coveted Sports Journalism Association award for her work in March 2023.
Further Nail Biting WSL Predicted
Sky says both Christiansen and Meulensteen will complement the existing on-screen Sky Sports WSL team. It includes former England legend Karen Carney and presenter Caroline Barker. The pair will also play a wider role across Sky Sports' football portfolio, including Premier League and EFL.
Aided by a title race that went down to the wire, last season's average viewership of the Women's Super League was up by 53 percent, highlighting the ever-increasing popularity of the women's game. WSL fans can expect another season of nail-biting action, with 35 games broadcast exclusively live on Sky Sports during the 2023/24 season.
Have you enjoyed this article? Then share it with your friends.
Share on Pinterest