888Poker may be one of the oldest online poker sites in existence, but it still knows how to payout a big jackpot. This week three players could not believe their luck when their seat at a $50 entry three-handed game hosted by the online card room displayed guaranteed prizemoney of $500,000.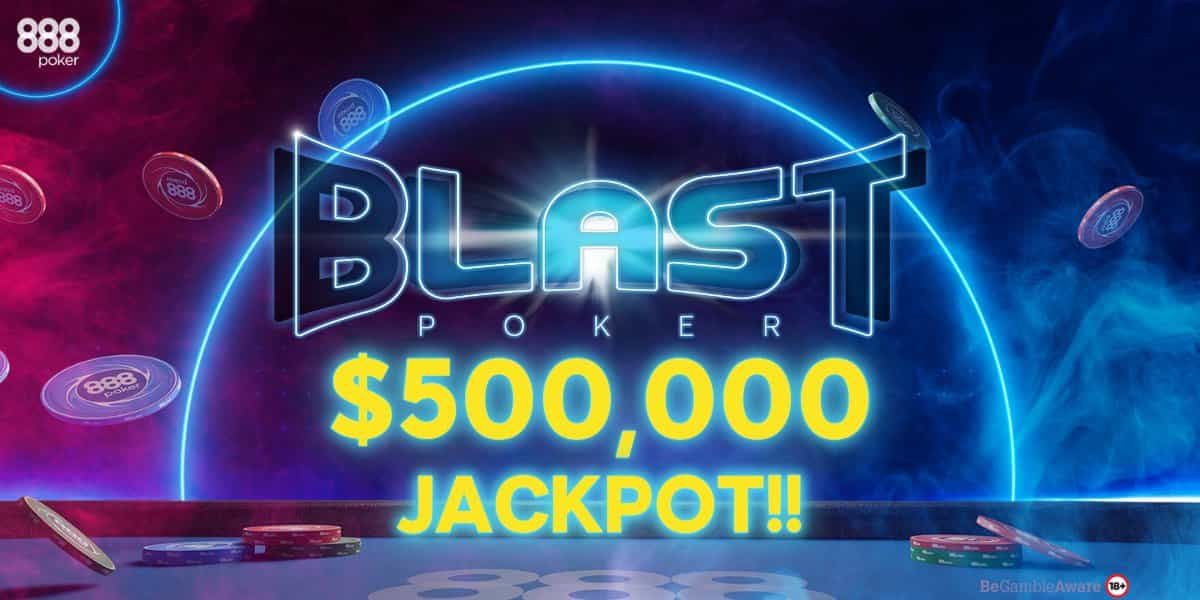 Each of the trio was guaranteed to collect a $50,000 prize without winning or even playing a hand. The second position came with a $100,000 reward, and the winner of this three-way game of Sit & Go Texas Hold'em would net $350,000.
This colossal prize money was no software glitch. The game the three players had selected to play was Blast Poker, and its rules state a massive payday is always possible. Blast Sit & Go prize pools are determined by a randomly generated draw. It takes place at the beginning of each tournament.
The Percentages That Make Poker a Blast
Only three players can play in a Blast tournament, and prize pools vary between two and 10,000x times the buy-in of the selected Blast game. 888Poker, part of the family that includes 888Casino and 888Bingo, does advertise the probability of the prize fund that will be at stake.
In a $50 entry Blast game, roughly 49 percent of the time the prize will be $100. Similarly, just shy of 42 percent of competitions will pay $150. After that, things get interesting. Eight percent of Blast games will pay $250, one percent will pay $500, and 0.15 percent will see $1,250 distributed between the three contestants.
Naturally, significant money is scarce. Seventy-five of every million $50 entry Blast tournaments played – that is 0.0075 percent – have a 100x prize pool multiplier. It means $5,000 is in the prize fund. The jackpot $500,000 prize pool is a verified 'one-in-a-million' outcome as, on average, it is triggered once every million Blast games played.
A 7,000/1 Winner
The latest recipients of this 888Poker jackpot pool were from different parts of the globe. A Hungarian player using the alias 'vicuska12344' finished third for $50,000, a Romanian representative, 'valyspk04', claimed $100,000 for second, and a Canadian took the $350,000 first prize.
According to 888Poker, 'Pelaps' – the alias used by the winner – had only been a site member for five months. Their cash prize represents a 7,000/1 return on the $50 they invested.
To quantify those odds, using the latest prices on British football as a probability guide, they are almost identical to the likelihood of Tottenham winning the 2023/24 Premier League allied to Ipswich becoming the 2023/24 Championship winners and Blackpool landing the 2023/24 League 1 title!
Maple Leaf Players Dressed in Clover
888Poker has been a happy hunting ground for Canadian players. In April 2022, the online poker site became one of the first to operate legally in Ontario province. Eight months later, a $20 entry Blast Sit & Go landed on its 1,000x multiplier. This time the Canadian winner collected $140,000 of the $200,000 prize pool.
The biggest ever Blast jackpot landed in September 2021 when two lady players from Italy found themselves heads-up in a $1 million Sit & Go that cost just $1 to enter. The top prize of €700,000 went to a 54-year-old woman living in Lazio and using the alias 'ilaria200651'.
Have you enjoyed this article? Then share it with your friends.
Share on Pinterest